Ensuring Safe Patient Transport with EpiShuttle: Training Exercises in Sweden and Norway
In the realm of medical emergencies, time is often of the essence. This holds especially true when it comes to transporting patients with high-risk infections. Two Scandinavian countries, Sweden and Norway, have perfected the process of patient transport. They have been conducting training exercises using the EpiShuttle, which ensures the safety of both patients and healthcare professionals.
Norwegian Armed Forces and National Medical Emergency Team for High-Risk Infection (NMUH)
Norway's NMUH has recently collaborated with the Norwegian Armed Forces to perfect their skills in using the EpiShuttle for transporting patients in critical condition. Picture this: it's a Thursday morning in Ålesund, Norway, and a patient with Marburg disease, a high consequence infectious disease (HCID), arrives from Africa. The NMUH, comprised of doctors, nurses, and ambulance personnel, steps into action. Their mission is clear – to safely transport the patient to Oslo University Hospital's high isolation unit.
Equipped with the EpiShuttle, the team embarks on this critical mission. Inside this sealed unit, the patient receives the necessary care, while the air filtering technology ensures that healthcare professionals remain protected from infection. HCIDs are known for their high mortality rates and ease of transmission, making patient transport a highly sensitive operation.
EpiGuard takes pride in providing the crucial equipment that empowers these healthcare and military teams to save lives. Through this cooperation, patients with HCIDs in Norway are assured of safe and efficient transport.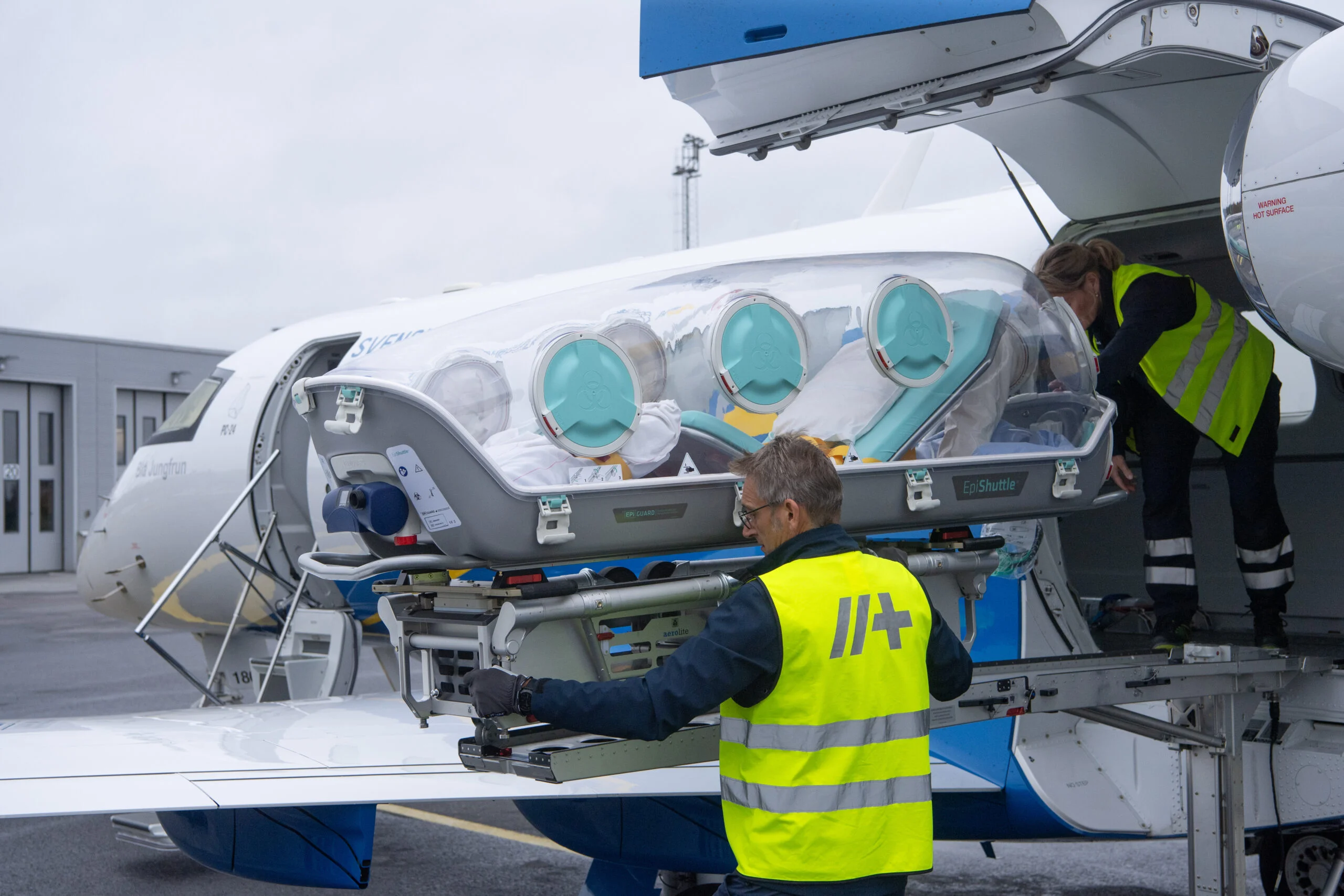 Swedish Ambulance Aviation and University Hospital in Linköping
On the other side of Scandinavia, in Sweden, a similar initiative has been happening. Swedish Ambulance Aviation, in collaboration with the University Hospital in Linköping and Norrland University Hospital, carried out a transport exercise that showcased the importance of ambulance flights for long distances.
Traditionally, patients with HCIDs were transported by road which have geographical limitations. With the introduction of ambulance aircraft medical care from specialized facilities, like the University Hospital in Linköping and Karolinska in Huddinge have become accessible regardless of distance.
In a recent exercise, a patient suffering from a form of haemorrhagic fever was transported from Norrland University Hospital in Umeå to the high isolation unit at the University Hospital in Linköping. The process involved meticulous planning, the use of the EpiShuttle, and the collaboration of various medical teams.
These exercises are part of larger project collaborations with health authorities and are vital in enhancing crisis preparedness.
In both Sweden and Norway, the use of the EpiShuttle and the dedication of medical and military personnel represent a significant step forward in ensuring the safe and efficient transport of patients with HCIDs. These training exercises not only demonstrate the importance of preparedness but also emphasize the synergy between healthcare professionals, the military, and innovative equipment which help save lives.