EpiShuttle helps protect health care professional from the corona virus
The EpiShuttle is a single patient isolation unit and transport unit in use worldwide protecting patients and healthcare professionals!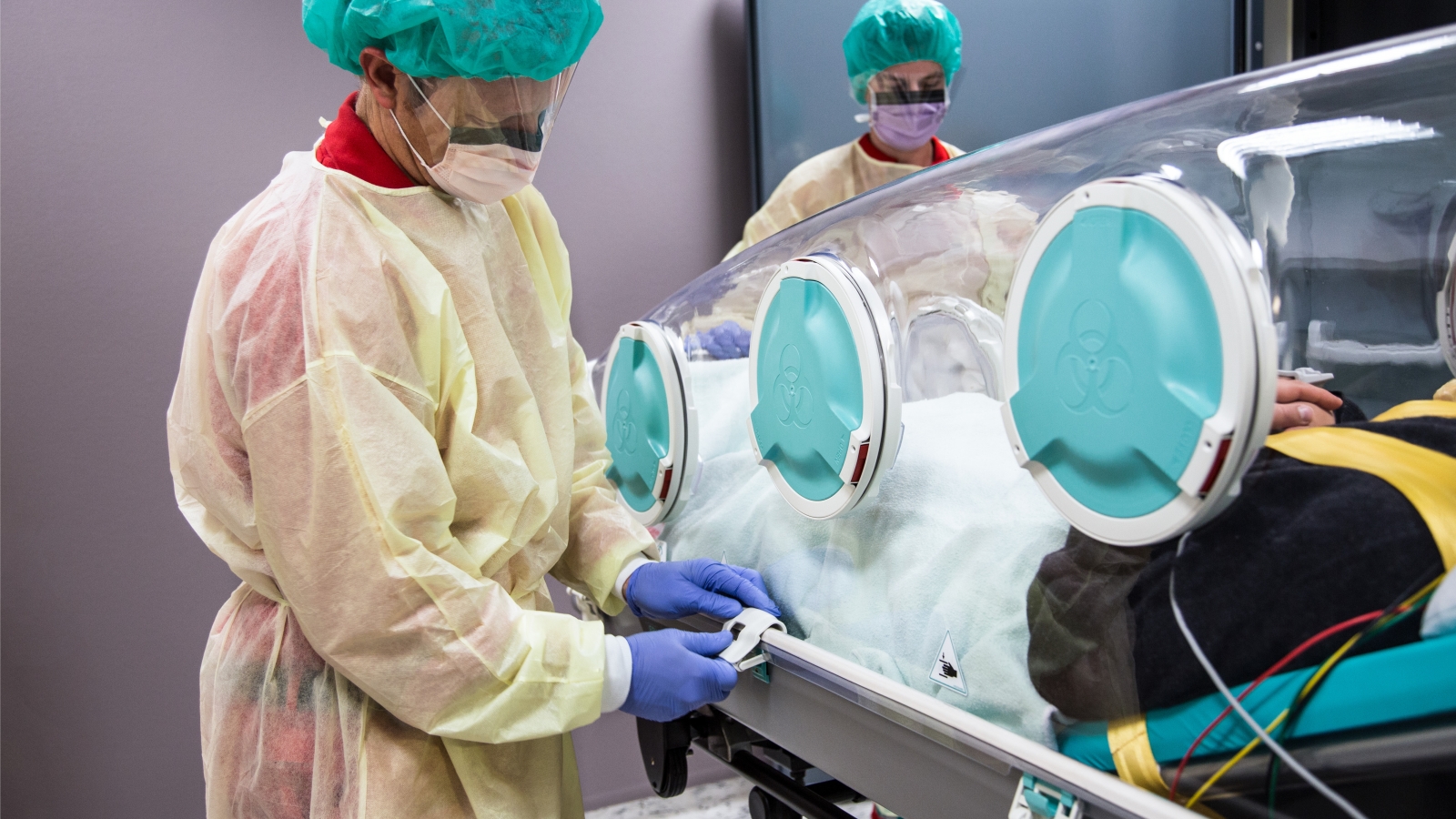 280 EpiShuttles are now in use on all continents, transporting Covid-19 patients.
---
"The healthcare professionals' safety must be a top priority. In a healthcare system strained beyond its capacity, the EpiShuttle keeps the patient absolutely isolated, providing safer transport, for both patients and healthcare professionals."

Ellen, EpiGuard CEO
Where is the EpiShuttle used?
In United Kingdom both DSTL and NHS, have acquired EpiShuttles to protect their staff from infectious diseases. Irelands' NAS also decided to invest into staff protection and has EpiShuttles available.
The airliner FAI is amongst the most frequent flyers of the Epishuttle, with almost 200 missions, transporting COVID-19 patients to hospitals. Volker Lemke head of FAI´s Air Ambulance Division recently stated:
"Our investments in the EpiShuttle have increased our efficiency in COVID-19 transport and we have had flights with CBRN patients with the EpiShuttle as well."

Volker Lemke

German DRF Luftrettung, one of the largest air rescue organisations in Europe, is transporting patients from coronavirus hotspots to hospitals with available capacity. Dr Gerhild Gruner, Head of Critical Care in DRF Luftrettung in an interview with Sky News stated:
"It is a national problem for us here, as well as in France. There are hotspots spread across the country. Some hospitals have beds available in ICUs, and others are already full."
Who does the EpiShuttle protect?
The EpiShuttle protects the surroundings from a contagious patient and it is also used the other way around – to protect a vulnerable patient from the contaminated environment. This way, contagious patients situated in isolation wards can be safely transported to other parts of the hospital for treatment or tests, without the risk of infecting staff or other patients.
Burn victims and patients recovering from cancer treatment, for example, are particularly susceptible to airborne pathogens, including MRSA, which are filtered by the EpiShuttle ventilation system.
When using the EpiShuttle, there is no need to disinfect hallways, elevators or other areas through which the patient has been transported. This applies both to highly infectious diseases and patients with other infections, such as measles, tuberculosis, or multi-resistant bacteria.
Main advantages of the EpiShuttle:
Dual protection: The pressure modes can be set to either protect the environment from the infected patient or protect the patient from contaminants in the environmental air. It complies with all levels of transmission-based precautions; standard, contact, droplet and/or airborne.
Less PPE during transport: Once the patient is loaded in the EpiShuttle, medical staff don't have to wear full Personal Protective Equipment (PPE) during the transport of highly infectious patients. This allows for longer shifts and reduces the risk of making mistakes due to fatigue or reduced situational awareness.
On-site medical and intensive care: EpiShuttle is equipped with medical ports for connecting IV lines, oxygen lines and monitoring cables, as well as providing mechanical ventilation to the patient. The intensive care system allows the health personnel to monitor, medicate, and give treatment to the patient without direct exposure.
Reusable: The device is simple to clean and disinfect for multiple uses and is easily disassembled and assembled without the use of any tools.
Don't take our word for it!